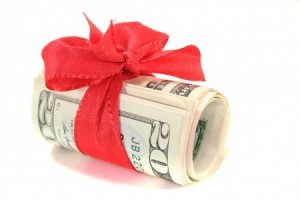 The days are long gone when employees stayed with one company for most of their working lives, and Christmas bonuses were the rule rather than the exception. Large companies and the finance industry have continued the culture of the Christmas bonus, but for a small business owner, a holiday bonus can be a difficult call given the financial uncertainty of the times. A recent American Express Survey shows that only 27% of small businesses plan to give their employees holiday bonuses in 2013. What can, could, or should a small business owner do? Here are three types of bonuses to consider that make sense from a small business owners viewpoint:
Longevity Bonuses: bonuses given that either award longevity or give people an incentive to stay. Employees 35 years and younger change jobs every 18 months, and people of all ages change jobs every three years. If your profit margin is dependent on the people who work for you or the skills they bring to the table, it makes sense to offer bonuses that will build loyalty and keep them.
Non-performance Bonuses: bonuses that all employees receive as a way to show an employer's appreciation for the work done in a year. If there is a great discrepancy in length of service, the bonuses could be based on a percentage of an employee's salary, which would give larger bonuses to the more senior staff.
Performance Bonuses: More and more small employers are turning to performance-based bonuses. Giving employees definite goals, and then rewarding them for reaching those goals motivates them to do the best they can, and typically results in higher profits.
When considering whether or not it makes sense for you to give your employees a bonus this year, it is important not to forget the true spirit of the Christmas bonus – the real bottom line is not your dollar bottom line. A holiday bonus is given in the spirit of appreciation for a job well done, to let your employees know they are important, and that their work matters to you. With this in mind, even if your cash flow isn't up to giving all of your staff a monetary reward, it would be a wonderful and generous idea to think about giving turkeys, holiday baskets, grocery store or gas cards, or – the greatest gift of all – time. An extra day or two of paid time off is always appreciated at this time of year.